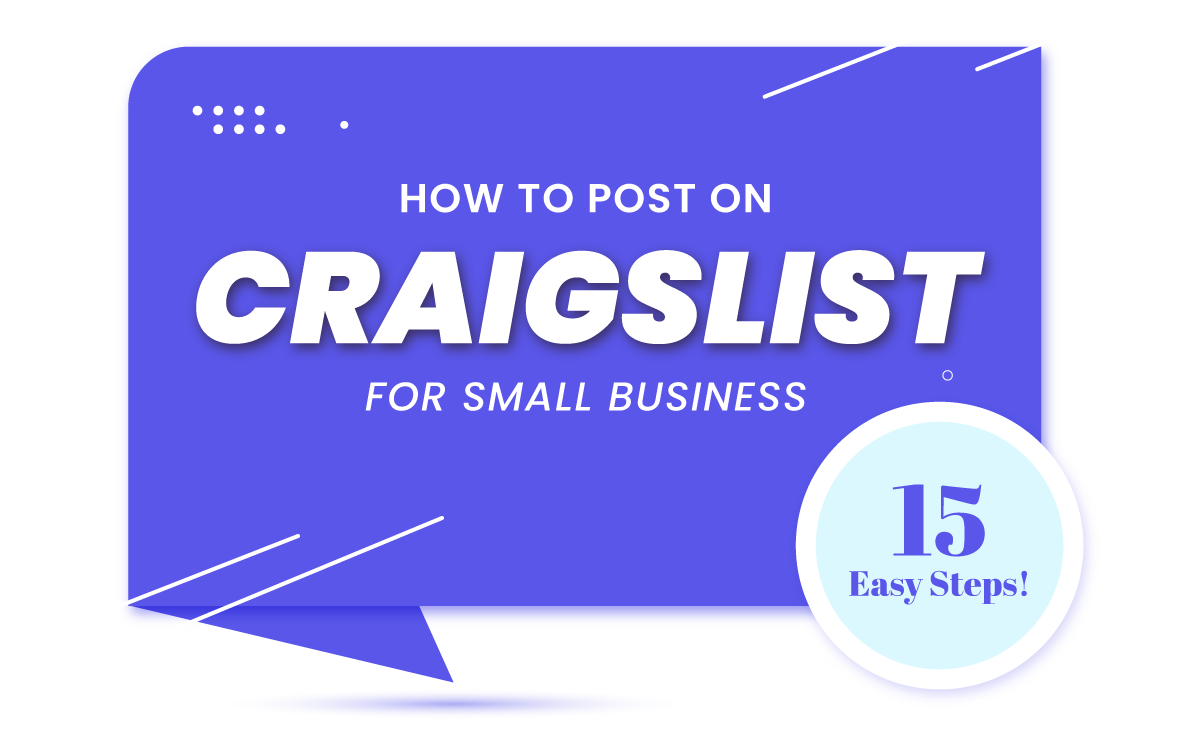 Since Craigslist's inception (1995) it has achieved exponential growth in increasing traffic on its website and revenue generation. Still, Craigslist gets over 60 million monthly visitors from the US and continues its journey at a seamless pace.
Even though in more than the past couple of years it has lost nearly half of its monthly traffic, it has shown its dominating attitude by increasing 17% revenue in 2022.
Craigslist offers you to create advertisements in almost any niche you can think about! But when it comes to a business discussion, you should follow a precise way to create advertisements that can bring massive results at a small cost.
So, what is the precise way to post on Craigslist for small businesses? Let's find out!
Why Should You Choose Craigslist to Expand Your Business?
Craigslist is a worthy source of traffic. For both newcomers and returning users from small business owners, Craigslist offers the following benefits.
Location Targeting: Using Craigslist you can run advertisements in any specific location you want. It significantly helps to receive orders for your small business from the area you set up while creating the ad campaign.
Competitor Analysis: You can observe your competitors' ads on Craigslist and a rough idea about their performance.
Cost Effective: Compared to many, Craigslist offers you to post for your small business at cost-effective price ranges. For instance, as a US user, you can create your job post considering the $10 – $75 price range (depending on the targeted location).
Diversified Product Listing: Craigslist allows posting regarding almost all types of products and services you can think about. And their robust algorithm helps to reach your ad to your targeted customer (no matter what the product is).
Increasing Loyal Customers: Most people from Craigslist come to Craigslist in search to get their desired product or quality services considering the cost-effective price tags. And that can be your trump card to create your loyal customer network!
What does a Craigslist Ad for Small Businesses Looks Like?
Honesty, there is no significant difference between the ad for your small business and the other types of ads previously posted on Craigslist. You can make a difference by putting the content in your ad considering the type of your small business.
After opening your Craigslist account when you decide to post anything for your small business, Craigslist will lead you to several pages. And those pages will ask for the following information.
Your location
Type of your potential post
A specific category of your post
Other necessary information (depending on your niche)
After providing all the information correctly, Craigslist will lead you to the following window.
As you can see from the image above, it's a blank form that you should fill up considering your business type.
Here the "Description" is the section that will contain the whole content regarding your business advertisement. After filling up the form and completing the further process, you'll see the finished version of your advertisement.
For instance, if you post for hiring a Bilingual Entry-Level Account Manager for your company, the finished version of your post should look like this.
15 Steps to Post an Ad for Your Small Business on Craigslist
No matter if you are a complete newcomer on Craigslist, you'll find extremely simple sequential steps to post ads for your small business.
Even if you don't have ABC on Craigslist, the following 15 steps can lead you!
Our suggestion will be to complete the whole process from your laptop/desktop. But smartphones or tablets are fine to use as well, but less handy.
Step 1: Visit The Official Site
Open any internet browser on your laptop/desktop. Type https://www.craigslist.org/ in the URL box and hit "enter". It will show the following interface.
Note: Depending on the location you're residing in, the interface might vary.

Step 2: Open Your Craigslist Account
After landing on the Craigslist homepage, Click on the "my account" option located in the top left corner. After that, it'll show the following interface.
As you can see, there are two separate sections on this page. If you are a returning user on Craigslist, you should log in with your mail credentials. But if you are a newbie, provide your valid email address and click on the "Create account" button as marked in the image above.
Step 3: Set Password for Your Account
Now log in to your email and find the verification mail from Craigslist in your inbox. Open the mail where you will find a verification link. Click on the verification link for completing the verification process. Now from the next window set your password and complete the account registration process.
Step 4: Accept "Terms of Use"
After setting your password, you will land on the "Terms of Use" page. You can go through their terms and conditions and then click on the "I Accept" button.
Step 5: Click on "Create a Posting"
Now return to your Craigslist homepage. Then click on the "Create a Posting" button located in the top-left corner as shown in the image below. Then you'll be asked to provide the location where the ad should be shown.
Step 6: Select Your Post Type
After providing your preferred business location, you'll see the following interface with different types of posting sections. As you are going to post an ad for your small business, you should select the "Service Offered" section.
Step 7: Select Your Business Category
Now you can see so many categories to select. Depending on the products or services you are providing from your company, select the appropriate business category from the list.
Step 8: Create ad Copy for Your Small Business
Now you must have landed on the page as shown in the image below. The red-marked section contains the fields where you have to give an appropriate title for your post and precise details of the service you are offering.

Take your time to create a perfect copy for your business as that will ensure the overall success of your ad.
Step 9: Provide Contact Details
The second portion of the same page allows you to provide the medium that your customer can use to get in touch with you. Fill out the field as marked in the image below with your valid details.
Caution: Don't put your phone number or E-mail address in the "Description" section to avoid getting spammed!
Step 10: Attach Some Images to Your Ad Copy
Now for better engagement, you should attach some images of the service you are providing. Craigslist allows up to 24 photos to attach. Make sure all your images are of good quality and in perfect resolution.

Click on the "Done With Images" button when you are done.
Step 11: Complete the Payment Process
If you have done all the things correctly, you will be redirected to a new page where you'll be asked to complete your payment procedure. In my case, it's charging $5. But depending on your service type and the location you select, the charges might vary.

Fill out the form with your card details, address, etc, and click on the "Pay $5" button.
Step 12: Check Out the Preview of Your Ad Copy and Publish
At the end of the process, Craigslist will show a preview of your ad so that you can understand how your ad will look from the users' end. If the preview seems satisfactory to you, you can publish it.
Step 13: Monitor Your Ad's Performance
Even though Craigslist has no convenient section to observe your ad's performance, you can figure out its overall performance by following some tricky techniques.
A good advertisement will bring you a decent number of calls and emails from your potential customers. But at the end of the day, you'll receive very few conversions. But don't worry! If your conversion rate is between 2% – 5%, that's completely fine.
But if your conversion rate falls lower than this, you should customize your ads with some improvised techniques to boost your sales.
Step 14: Filter Out Your Right Customers
A successful ad will bring a decent amount of orders. But not all of them will be your returning customers. Targeting them you can perform other marketing techniques to find out the sweet spot that will bring your ideal customers.
Remember, marketing with wrong targeting means throwing your marketing budget into the gutter!
Step 15: Keep Testing!
It's very obvious that not all your ad campaigns will perform as you think. Cause, you're not alone in the industry and on Craigslist as well.
For beating your competitors and making your investments a winning advertisement, you should always keep brainstorming and create some improvised techniques to make your ad copy worthy to face the battlefield.
If your first ad fails, try to customize something and add something new considering the persona of your targeted customer cluster.
Brainstorming, testing, and implementing your improvised techniques might make a few ad campaigns fail. But when you find the winning campaign, the result won't disappoint you at all!
Some Minor Downsides of Craigslist
Craigslist has massive potential to bring massive sales for your small business within the shortest possible time. But every good platform in the world has some pitfalls as well.
Craigslist is also not an exception to that. And that's why you might face the following inconveniences while using Craigslist-
It doesn't allow posting not more than once every 48 hours
Posting ads in other states seems difficult sometimes
Craigslist is blocked in many countries
But the reality is – to enhance your business growth, you need to perform the following things –
Running multiple ads for branding your small business
Creating ad campaigns for multiple locations
Besides, as a new and small businessman, you should take extra care about your business's growth.
Then What Is the Cheapest Way to Advertise a Small Business?
The answer is – Craigslist as always! Every small business on earth needs an initial branding boost for further growth. And Craigslist can offer you to enjoy a couple of impressive benefits-
It has about 250 million monthly traffic
The ad cost is relatively low
If you struggle to overcome the downsides and want to let your small business enjoy its success, you can take some professional help from here.
They will make all the necessary things done on behalf of your business where you'll get –
Free banner creation
Daily – Weekly reports
Free setup
Before making your valuable purchase, do consult with the professionals for free and let them know the present situation of your small business. They will identify the bottleneck of your business and suggest further steps you should take to thrive.
Frequently Asked Questions (FAQ)
So, let's give some answers to some frequently asked questions. Even though there are so many worthy questions to ask about Craigslist, we have decided to answer some common queries. Have a look!
Is Advertising on Craigslist Good or Bad?
Both! Depending on your niche or type of your business, sometimes advertising on Craigslist might be extremely good for your small business as it'll bring massive results.
But if your business's targeted audiences are less active online, then advertising on Craigslist might bring unimpressive results.
How Many Ads Can Be Posted in Services on Craigslist?
Under one category and one city, you can post not more than once in 48 hours on Craigslist. Even trying to post using Virtual Private Network (VPN) is also strongly discouraged in this regard.
How to Post on Craigslist Ad in Multiple Cities?
As Craigslist tracks your IP address and shows you their Craigslist interface depending on that, you'll see the available locations of the state where you're residing.
For posting an Ad on Craigslist in multiple cities you have to change your IP address and set a new IP for the location where you want to post your ad.
For changing your IP, you might have to consider spending on premium software for enjoying seamless performance.
Wrapping Up
This discussion was only made for creating a decent understanding regarding how to post on craigslist for small businesses. But this discussion is not sufficient enough for providing you with an in-depth idea regarding Craigslist.
Each category on Craigslist needs a different and elaborative discussion that will let you get a clear understanding of the efficient posting techniques. Before implementing your improvised techniques, you should learn these first to get impressive results. After all, only results are rewarded.
We'll soon try to cover all these in different discussions. Till then implement your brainstormed techniques and learn through the "trial and error" process. And the end result won't disappoint you.
Happy posting!